A Dish of Chocolate Ice Cream scoops £7500 award
Jeremy Mogford Prize for Food and Drink Writing winner announced
The thought-provoking story of a chef who comes to understand the power of food after unwillingly preparing a simple dish has won the inaugural £7500 Jeremy Mogford Prize for Food and Drink Writing.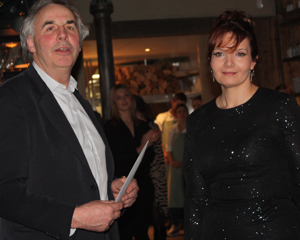 Emma Seaman, 41, of East Devon, was handed the award for her short story, A Dish of Chocolate Ice Cream, at a dinner at Gee's Restaurant, Oxford, attended by many of the country's finest chefs and food writers including Raymond Blanc, Madhur Jaffrey, Atul Kochhar and Claudia Roden.
She is pictured right being presented with the award by Jeremy Mogford (picture courtesy of Helen Peacocke).
Emma, a businesswoman who has had several short stories published in anthologies, said the story had been buzzing around her head for some time and she knew the Jeremy Mogford award would be the perfect medium for it.
It is the story of a chef who wants to present an elaborate dish to a woman but comes to understand the power of food on preparing something simple.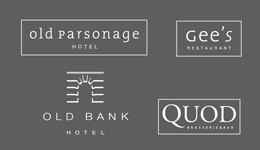 Emma said: "Food is sensual and anything sensual is easy to write about. Food is not just fuel, it's very immediate."
Food features a lot in Emma's writing. She contributes to a website about local food producers and devises recipes from ingredients harvested in Devon. She has just finished a novel, Lookey-Likey.
Donald Sloan, head of Oxford School of Hospitality Management, and one of the judges, said: "We have been overwhelmed by the number and quality of the entries. It has been fascinating to read such diverse works of fiction, all of which reveal something about the complex roles that food and drink play in our lives.
"With Jeremy Mogford's generous support, it seems we have created a competition that will encourage established and aspiring writers from around the world."
More than 400 entries were received from 15 countries for the 2013 award.

Entries are now being sought for the 2014 Jeremy Mogford Prize for Food and Drink Writing, the annual short story competition run by the Sunday Times Oxford Literary Festival in association with Oxford Gastronomica, part of the Oxford School of Hospitality Management at Oxford Brookes University. Food and drink has to be at the heart of the tale. The story could, for instance, be fiction or fact about a chance meeting over a drink, a life-changing conversation over dinner, or a relationship explored through food or drink. It could be crime or intrigue; in fact, any subject as long as it involves food and/or drink in some way.
Applicants are invited from anywhere in the world. They can be published or unpublished authors, but the entry itself must be previously unpublished. The story should be up to 2500 words and must be written in English.
Your short story should be up to 2500 words in total in English and have a food and drink theme at its heart. Entries should be submitted by email as a Word document to the mogfordprize@oxfordliteraryfestival.org by October 1, 2013 (one submission per person and not previously published). The winning entry will be announced at the Sunday Times Oxford Literary Festival in March 2014. The winner will receive £7500.
Entrants should also supply their home address, email and telephone number, their age and profession.
All entries submitted remain the property of the entrant. However, the Oxford Literary Festival, Mogford Group and their subsidiaries/associates retain the right to publish the winning and highly commended entries without fee – including the right to print an excerpt for use on festival promotional materials, for example website/brochure and in any festival media or broadcasting coverage, without fee; and the right for entries to be read in public during the festival without fee.
For more details contact Tony Byrne: 07801 287510